Serie A Player Analysis: Atalanta's Wingback Timothy Castagne
Excellent Wingback Timothy Castagne
It's amazing to think that Timothy Castagne, who enjoyed such a sensational second half of the season, could've possibly joined Celtic in January, with Atalanta rejecting a bid from the Scottish giants.
Having only played 10 times in 2018, the first part of the season certainly wasn't ideal, but Castagne really came into his own in 2019. Featuring on 23 occasions in 2019, the marauding wingback was an integral component towards La Dea's fantastic end to the campaign, which saw them reach the Coppa Italia final and remarkably secure Champions League qualification courtesy of their third-place finish.
Scoring five goals and supplying five assists, his production was very impressive indeed, with his most notable strikes coming when he scored against AS Roma in both league contests, vs. Juventus in the Coppa Italia and in his team's crucial win over Lazio.
Playing under the offensively minded, tactically sophisticated Gian Piero Gasperini, Castagne's relished working alongside La Dea's brilliant coach. Demanding so much physically of his wingbacks, the flying Belgian's adhered to his boss' demands due to his relentless energy, powerful two way running and formidable attitude.
No matter if he's deployed at right or left wing-back, his consistency has been a key component towards his success, with his performance levels remaining at a very high standard.
Undertaking his defensive duties with vigour and intensity, he's embodied Gasperini's high octane man to man pressing approach perfectly. So awake to his markers' movement, he reacts to pressing triggers rapidly like when his man drops deep, when a pass goes towards the wing, when his man is in an open body shape or when a pass is played backwards.
Get to know: Bologna's Erick Pulgar. Roma's Ante Coric.
Tenacious in the tackle and dogged in his pressing, he always tries to ensure his foe can't enjoy an easy touch, as he frequently forces turnovers, unclean actions or low percentage long passes. His proactivity on the defensive phase also transfers over to his counter-pressing, where he fiercely presses the ball holder or his nearby opponent once possession is loss, thus helping his team win back possession so they can attack again against their opposition who themselves were preparing for a counter-attack of their own.
Timothy Castagne counterpressing to win ball back quickly
Athletic and boasting nice pace, the Belgian international tracks runners closely and uses his strong motor to get back and support his backline by chiming in with a vital intervention or by covering a colleague, in order to regain structural stability.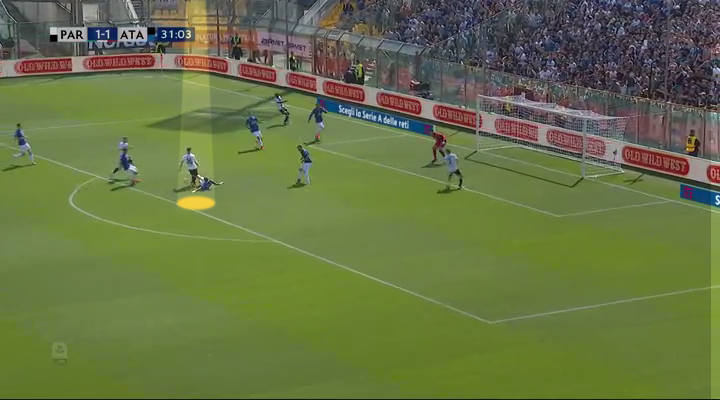 Timothy Castagne's fantastic sliding tackle to prevent a shot
Proactive and full of commitment, Castagne's stopping efforts have definitely been of the highest order, something his 4.49 interceptions per game and 1.39 clearances pg illustrate clearly.
Meanwhile, in his attacking exertions, he's shone brightly too, as his proficiency with the ball at his feet and devastating movement have caused huge issues for his adversaries.
Given licence to get forward to join in attacks at every available opportunity, the former Genk starlet's lung-busting upfield bursts have been a big asset to Atalanta. Timing his runs to provide width and depth to his team's offensive forays, this effectively stretches opposing backlines around to create disconnects in their shape.
Timothy Castagne's superb overlapping run
Timothy Castagne's stretching opposition
In addition, the way he accompanies his marauding overlaps with his smart underlaps and blindside movements, further enhances his threat, allowing him to pose extra marking conundrums for his foes.
Smart positionally, he also helps his team generate ideal 3v2 overloads in wide areas and cleverly pushes high to make room for an Atalanta central defender to push into advanced areas and give them an extra attacking number. Rotating efficiently with his colleagues too, he's shown how he dovetails nicely with his midfielders and attackers to increase his team's impetus going forward.
Timothy Castagne helping generate a 3v2 out wide
Timothy Castagne pins marker to create space
Proficient on the dribble and capable of beating his man 1v1, Castagne's barnstorming runs have been a real highlight, where his directness, control and pace have driven defences back. Possessing neat ball control and a tidy first touch, he can weave out of danger to buy himself time before executing his actions too.
Passing the ball coherently and with accuracy, he connects and constructs play adeptly. Be it in tight spaces, in build up, when breaking the lines or when striking his customarily superb crosses and cutbacks, his distribution has largely been on point.
Timothy Castagne's fantastic cross
By the numbers, his 2.1 dribbles pg, 0.75 shot assists pg, 1.67 touches inside the box pg, 1.48 progressive runs pg, 1.14 accurate crosses pg and 37.94 passes completed pg at 84.8% accentuates his offensive output.
In light of his tremendous form to finish the crusade, the likes of Roma, Napoli and AC Milan have all reportedly joined the race to sign the swashbuckling Belgian. But despite the speculation, Castagne's agent has announced his client has decided to stay put with Atalanta, citing his desire to play in the Champions League and his happiness in Bergamo.
Working under Gasperini's tutelage, who's been a key figure towards his success, is clearly another factor in him remaining with Atalanta. "We have exceeded all expectations. Recently we received applause from the entire stadium at Juventus. The fans acknowledge that we play the most beautiful football, with a high pressing, man against man," he told Sport/Voetbalmagazine.
"Unlike many Italian clubs that prefer to block everything in the back, in a catenaccio-like way. We work hard physically. You can see that now, because at the end of each game we are conditionally strong while others I think we and our coach Gian Piero Gasperini are working even more on that aspect than the rest of Italy. And tactically he is very strong. There is great respect for him after three seasons at Atalanta."
Having come on in leaps and bounds, Celtic will certainly be ruing they didn't stump up the €12 million Atalanta was asking for to sell Castagne in January, for they, alongside the other interested parties, have missed the boat on acquiring the wicked wingback.
Looking into the future, their loss is unquestionably Atalanta's gain, with his stocks set to skyrocket in the coming seasons, as he continues to develop his craft under a coach that knows how to get the best out of him.
Preview by: licencetoroam.
For more analyses, highlights and match previews, visit Eastbridge's insights page and get the latest on sports. New to betting? Try VOdds now.